A one-hour, online course designed to kickstart your family's healthy eating!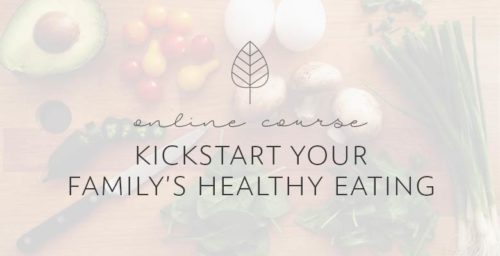 Easy meal ideas and tips to kickstart your family's healthy eating that fit your busy, on the go lifestyle. Learn simple ways to get more fruits, vegetables and other plant foods in every day—including pre-prep and meal planning basics that will make your life so much easier! You will leave this class with an understanding of carbs, protein and common areas of confusion.
"I took the Kickstart class to learn how to make healthier dietary changes to improve my overall health. Kickstart, does just that! This class talks about what constitutes good nutrition and how we can simply implement healthy meal options and snacking habits into our lives. Tammy provides simple tips and recommendations to help move toward a more whole food, plant based diet at a gradual pace that supports long-term success! After participating in the Kickstart class, I feel better prepared to make informed choices when shopping and meal planning. I am looking forward to continuing my journey for a healthier dietary lifestyle."
~A. Leigh Zepeda
What's Included:
One, 60-minute power packed video lesson
One, downloadable, Easy-action sheet: Throw-Together Meal Ideas
Kickstart is great for:
Kickstart is perfect for busy families looking to explore basic concepts of healthy eating and lifestyles. They want simple and delicious ways to explore eating healthier one step at a time.
Purchase Price: $29
FAQ:
Do I get ongoing access to the course?
Yes! You will have continued access to the page and videos; however, we recommend that you download the files yourself so you can be sure to have the content tucked away on your computer!
Is there a 1-on-1 component to the course?
To make the course most affordable and flexible for you, it was crafted to be a solo, online learning experience with everything you need to be built in!
What if I have questions or want additional help?
Tammy is always bringing value to her clients and customers. You are welcome to follow Tammy Schwartz Wellness on Facebook to receive inspiration and the latest wellness information on the daily!
What if I want a refund?
This online course is built to provide you complete access to all materials from day one. This allows for the best learning experience and most flexible for busy families. Because of this arrangement, there is not an opportunity to refund online courses. If you have questions about whether the course is right for you, reach out via the contact page and Tammy will be happy to connect!
Ready to KICKSTART your family's health?
Kickstart Course Enrollment
After enrolling you will receive a PayPal link to complete payment. When payment is complete, you will receive the password to access your course!
---
Already Purchased this Course?