Three-part, healthy-eating, online course with simple, do-able action steps!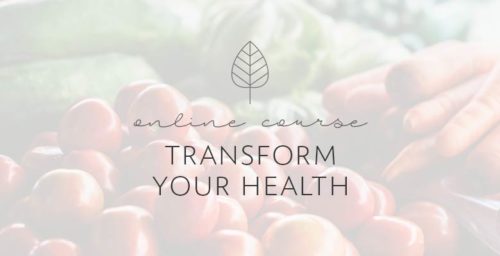 Gain an in-depth understanding of why the foods we are being taught to eat are making us sick and causing weight gain. This class will help you transform your health by empowering you with the truth about what we really should be eating (which may surprise you!) and with the tools you need to start making lasting changes. Our Transform course focuses on simple solutions that fit your busy lifestyle, and still yield transformational results!
"I highly recommend 'Transform Your Health.' This 3-part class series is informative, engaging, and very well structured. Tammy's passion to help others establish healthy lifestyles is evident in her teaching. She is extremely knowledgeable, experienced, and presents her research based information in a way that is easily understood. I have gained greater clarity in what constitutes good nutrition, how to better feed my family, and how to focus on simple solutions for continued long-term success. This class has given me a good foundation to continue on a healthy lifestyle journey."
~A. Leigh Zepeda
What's Included:
Three, 45-minute video lessons
Four downloadable easy-action sheets
Our favorite, easy, family-friendly recipes
Transform is great for:
This class is great for busy families looking to transform their health, as well as for wellness professionals who want to be able to share the basics of science-based nutrition with their patients or clients.
Purchase Price:  $79
FAQ:
Do I get ongoing access to the course?
Yes! You will have continued access to the page and videos; however, we recommend that you download the files yourself so you can be sure to have the content tucked away on your computer!
Is there a 1-on-1 component to the course?
To make the course most affordable and flexible for you, it was crafted to be a solo, online learning experience with everything you need to be built in!
What if I have questions or want additional help?
Tammy is always bringing value to her clients and customers. You are welcome to follow Tammy Schwartz Wellness on Facebook to receive inspiration and the latest wellness information on the daily, subscribe to her weekly emails, or reach out for a free consult to explore options for further support.
Ready to TRANSFORM your family's health?
Transform Course Enrollment
After enrolling you will receive a PayPal link to complete payment. When payment is complete, you will receive the password to access your course!
---
Already Purchased this Course?